Illuminate! the pre-Eureka workshops on Business Plans at ITER, Bhubaneswar, 6th Oct '12
***
82% of the participants said that the workshop met or exceeded ALL their objectives
90% would recommend the workshop to a friend
98% of the participants found the speaker "Engaging"
84% would rate this workshop as "Above Average" or "Exceptional" as compared to similar workshops
***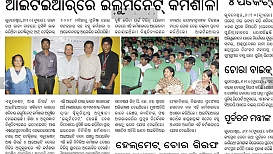 Some comments from attendees:
..Right amount of advice, talks and theory. Shantanu Sir kept us engaged and made us think more..It enlightened me with lots of knowledge and confidence 
Feeling was excellent! 
Whatever has been given today is awesome. 
Just more than expected. Learnt a lot. 
Simply awesome… 
Sir, you were very interactive and I liked the workshop a lot. 
This seminar made us aware..that "Life is not a bed of roses" and there's nothing to feel ashamed of our failures, instead we should take it as an opportunity to reach our goals 
It was a nice experience..lots to learn 
Had an amazing time and got to know a lot of things. Looking forward to attending more such workshops 
It was a well planned and highly energetic workshop..Expectations were accurately met. 
The workshop was an awesome experience and got much out of it about business, planning and entrepreneurship 
This seminar not only made us aware about entrepreneurship and business qualities but showed us a different way (to) lead our lives in different style 
Wishing all the best to Eureka and hope to attend more workshops like this 
Perfect seminar..overall gained a lot from it 
It has been my childhood dream to be an entrepreneur and today I have gone one step further towards my goal. Thank you! 
It was an eye opener. Yes, I wanted to take entrepreneurship as a career and now I am determined to do so, Thank you very much!! 
Great day!!!..really inspiring 
Enjoyed the session a lot and got a lot of ideas about entrepreneurship…You rock Sir!!! 🙂 
Overall its an amazing day 
Very lively workshop..It proved to be quite fruitful for we students who are at the verge of exploring success 
Perfect. Would love to attend again 
The workshops was very informative..taught me to how to channel my energies in the right direction. Thank you Shantanu Sir!!! 
One of the best workshops I have ever attended. Workshop really helped me. I would like to attend similar workshops in the future 
I came here as a layman about entrepreneurship but while packing up I surely am enlightened by what it is and how to do it 
The workshop teached a lot of things to me. Its very encouraging. 
The seminar was full of interaction…
***
P.S. This was one of the largest pre-Eureka B-Plan Workshops with over 250 attendees!
Also see Testimonials and feedback from previous workshops!
To know more about our workshops, please email us.  Additional Information: Workshops