Illuminate! the pre-Eureka workshops on Business Plans at LJIET, Ahmedabad, 8th Oct '12
***
70% of the participants said that the workshop met or exceeded ALL their objectives
80% would recommend the workshop to a friend
91% of the participants found the speaker "Engaging"
72% would rate this workshop as "Above Average" or "Exceptional" as compared to similar workshops
***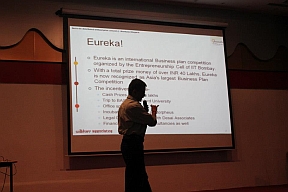 Some comments from attendees:
It was my first workshop..and I get more and more information about Entrepreneurship. And I got real information for business management. "Thank You"!!! 
Very good workshop 
Keep up the good work… 
Right mix of all the things. Very helpful.. 
The Workshop was great. It included almost all the topics about entrepreneurship and encouraged a lot. I did not have plans to be an entrepreneur but now I have…. 
Excellent W/S on Entrepreneurship and clarity on the subject. 
Very interactive
***
Also see Testimonials and feedback from previous workshops!
To know more about our workshops, please email us.  Additional Information: Workshops