Here is high-level feedback from the B-Plan Workshop at NIT Trichy, conducted on 12th October (Sat):
95% said that the workshop met or exceeded all their objectives
93% said there expectations were met or exceeded.
100% found the speaker engaging !
96% would recommend the Workshop to a friend. 
Of those who had attended a similar Workshop before, ALL rated it "Above Average" (67%) or "Exceptional" (33%)!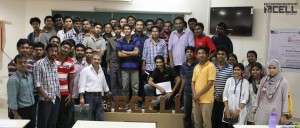 Here is some qualitative feedback from the participants:
The session was really nice and gave some really good insights, Looking forward to attend more of such Workshops. Thank you and Best of Luck!
Inspirational talk..
Mr Bhagwat was a really inspirational and knowledgeable individual..
Excellent speaker, Inspiring
A life time valuable experience..
Real pleasure..
The Workshop is beyond my expectations. Really inspired.
Very helpful. Helped me learn a lot about basics of entrepreneurship.
*****