Last week, we finally wrapped up Elevate! – the series of Workshops on B-Plans and Entrepreneurship that we did in collaboration with Entre Cell, IIM Ahmedabad at four leading institutions in India – BITS Goa, TAPMI Manipal, NIT Trichy and Medicaps Indore.
The feedback was overwhelmingly positive across the board…and it was immensely gratifying to read the comments (pl see some of them below). Here are the highlights:
Aggregated feedback from four Workshops with almost 350 participants in total:
75% of the participants said ALL their objectives were met or exceeded*
94% of the attendees found the speaker engaging*
87% would recommend the workshop to a friend*
and 81% would rate this workshop as "Above Average" or "Exceptional" as compared to similar workshops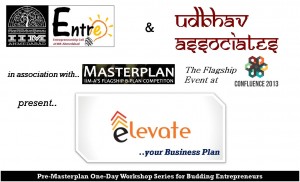 Here is a sample of qualitative comments (from different workshops):
It was really engaging and entertaining. Hope to see you sometime again soon n all the best for your 
dreams #Respect 
The workshop was really interesting and engaging 
Very engaging and frank. Not idealistic 
Excellent work. 
Very awesome! 
It was a really enriching experience..You were excellent! 
Thank you  so much for your time sir. It was amazing to have you amidst us.   
Totally mesmerised Sir. Got all the much needed motivation, inspiration..Thank You 🙂 
Got to learn new things; Eloquent speaker, very engaging 
Inspirational talk.. 
Mr Bhagwat was a really inspirational and knowledgeable individual.. 
Excellent speaker, Inspiring 
A life time valuable experience.. 
The Workshop is beyond my expectations. Really inspired. 
Sir, you are a very good speaker and motivator. That you so much for this amazing workshop. 
Sir, due respect for you. Hats off. First time attended this type of workshop. A good day to hang in college. 
Very helpful. Helped me learn a lot about basics of entrepreneurship. 
Amazing and enlightening 
Very motivating. A good learning experience 
Good overall. Some insightful learning 
Very insightful session! 
It was an experience. Not just learning but inspiring 
Very thought-provoking and enlightening. The content was structured well
Looking forward to an even better and bigger series in 2014!  And here's wishing all of you the very best in your entrepreneurial journeys…Live your dreams! 
*****
* Note:
We do not include "Partially" while analysing responses to "Objectives Met"
We do not include "Somewhat" while analysing responses to "Speaker Engaging" 
We do not include "Maybe" as a response in case of "Would you recommend the Workshop to a friend?"