Feedback from the Entrepreneurship Workshop at IIM Raipur, 27th Sept '12
***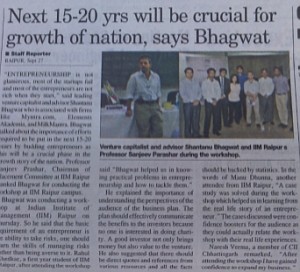 88% of the participants said that the workshop met ALL their objectives
100% of the attendees found the speaker engaging! 
90% of the attendees would recommend this to a friend (40% would definitely do so) 
50% of those who had attended similar workshops in the past found this "Above Average"; 38% found the workshop "Exceptional" as compared to other workshops they had attended.
***
Here are some qualitative comments:
Thank you a lot for clarifying so many things for me and opening up new dimensions of thinking 
Highly interactive session and has just made me believe that there is no end to chase your dreams
Look forward to attend more of such kind 
Do organise again and let me know
Intearction was very fruitful. Gained so many knowkedgeable insights
Really very fruitful
Excellent; Very interactive workshop
***
Related: Feedback from the Workshop at IIM Indore, Dec '11
Also see Testimonials and feedback from previous workshops!
To know more about our workshops, please email us.  Additional Information: Workshops