Introducing…Elevate! – a series of one-day Workshops for aspiring, ambitious and pasionate Entrepreneurs, in collaboration with Entre Cell, IIM Ahmedabad
Led by Shantanu Bhagwat, VC, Seed Investor and Entrepreneur
.
Udbhav Associates is proud to announce Elevate!  – a series of one-day Workshops on Entrepreneurship across India, in collaboration with Entre Cell IIM-A. These workshops will precede Masterplan, IIM Ahmedabad's flagship annual B-Plan competition at Confluence 13, organised by Entre.
Masterplan seeks to identify budding entrepreneurs from around the country who are breaking the mould and to contribute to India's growth story.  Masterplan is conducted in three phases and a select set of teams are invited to the finals at Confluence, where they get an opportunity to present their ideas to a panel of judges comprising industry stalwarts, entrepreneurs, and Venture Capital firms.
Since 2012, the Confluence team has been associating itself with several pre-Masterplan workshops in the various cities of India. These workshops help the participants approach their idea in a systematic way and enable us to reach a large & relevant audience for Masterplan!
This year, Udbhav Associates and the Masterplan Team are collaborating to conduct this series of workshops across some of India's premier engineering & MBA colleges titled Elevate!
The workshops will be focused on entrepreneurship, start-up skills, B-Plans and funding. They will include the practical tips and advice to deal with the challenges of going from an idea to a full-fledged successful enterprise.  The highly interactive sessions will include case-studies, analysis, samples, presentations and discussions followed by 1-on-1 mentoring for pre-selected wild-card entries.
Participants will be encouraged to share their entrepreneurial ideas and thoughts during the sessions and submit their business plans to Masterplan!   Along with this, the speaker would also be sharing stories from his entrepreneurial journey. He would also be drawing upon the lives of the leading entrepreneurs leaders, their ideas, how they scaled them up and what we can learn from them. The Workshop will be led by Mr Shantanu Bhagwat, Venture Investor & Entrepreneur.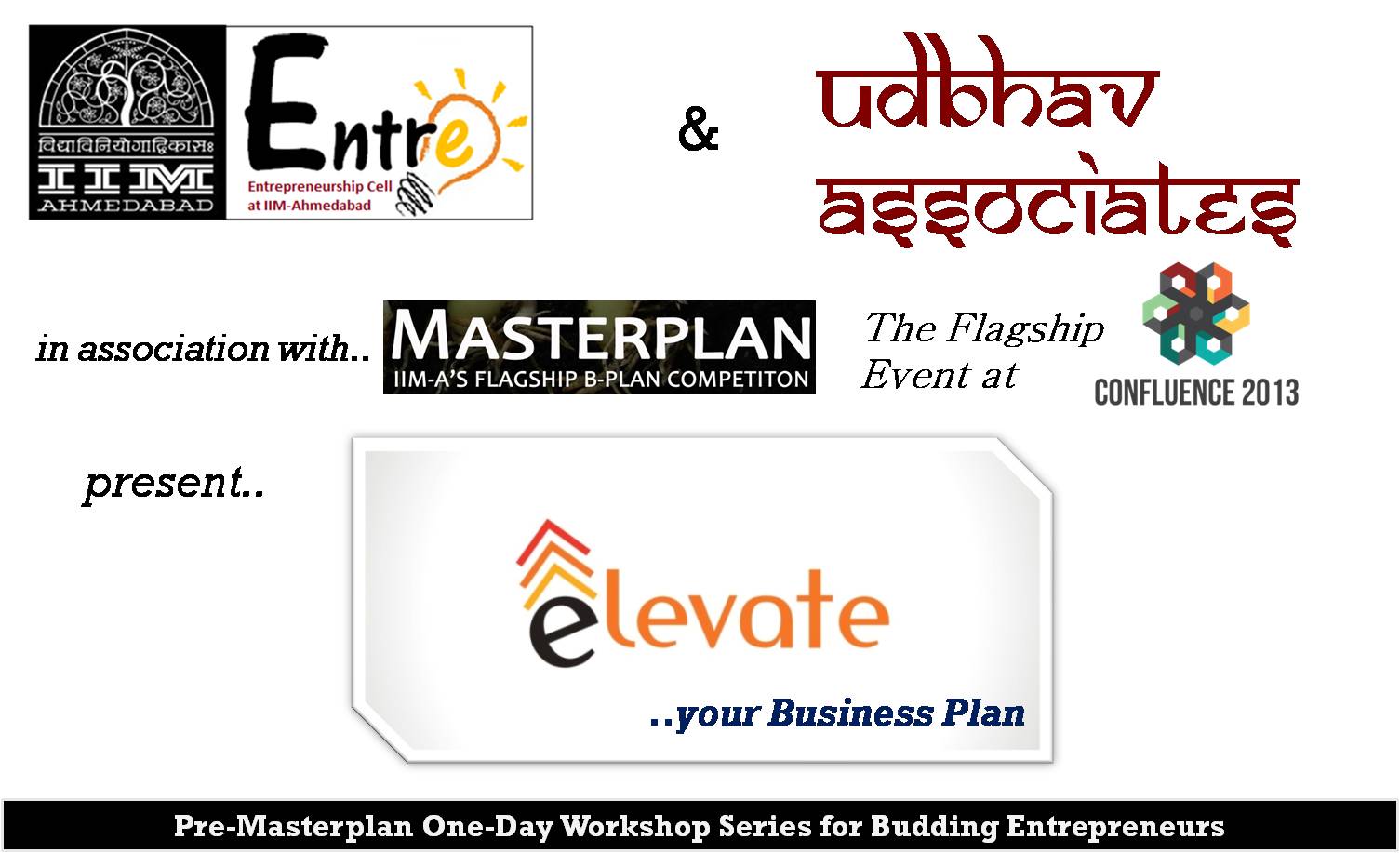 Program Brief:  This one-day workshop is aimed at budding entrepreneurs, students and young professionals who wish to start their own venture or have a strong interest in entrepreneurship.
The workshop is aimed at developing skills required to be a successful entrepreneur. The discussions & exercises will enable you to identify critical success factors and equip you with tools, practical tips, advice & resources to start on your own.
Who Should Attend: Budding Entrepreneurs, Students, Young Professionals & anyone interested in starting on their own.
.
Workshop Fees (without discount): Rs 750/- per participant, including course material.
Early-Birds Discount (up to five days prior to the workshop): Rs 600/- per participant
Group Bookings (in groups of five participants): Rs 500/- per participant
Additional details below..
Synopsis: The day will be heavily interactive and will include cases, analysis, presentation and discussions.  
In this one-day workshop Mr. Shantanu Bhagwat will share his thoughts, tips and suggestions on entrepreneurship and starting on your own. He will challenge your existing ideas about entrepreneurship and help you realise whether you are cut out to be one.
He will also share his personal experiences in entrepreneurship – from 20 years ago, to the present and try and draw out certain themes that mark successful entrepreneurs.
The workshop will help you ask questions about your business (and innovative ideas) and test them against the harsh filters that VCs use (Mr. Bhagwat is currently a Principal Director with a US-based Fund and has spent more than a decade in venture capital. He is also a personal investor in several start-ups in India)
During the day, we will also look at examples of entrepreneurship from around the world and what makes some entrepreneurs successful several times over (serial entrepreneurs) even as others continue to struggle.
Workshop outline:
Insights into entrepreneurship, challenges in starting a business
Are you cut to be an entrepreneur?
Key requirements for starting up
Ways and means of starting as an entrepreneur
Idea to execution – key steps towards starting up
B-Plan training – How to make an effective B-plan?
How to pitch to a VC?
Most common mistakes made by Entrepreneurs
Case studies of start ups in India/abroad
By the end of the workshop, participants would:
be better prepared and equipped to start on their own;
be aware of pitfalls and key success factors;
become familiar with different sources of funding and
have gained a deeper understanding of entrepreneurship
During the day, you will get a chance to explore questions like: 
Starting on your own – When is the right time?
How to write an effective business plan?
How to pitch to a VC?
What are the most common mistakes made by Entrepreneurs?
AND – most importantly:  
Are you cut out to be an Entrepreneur?
.
Workshop Dates, Venues & Contact Details
***

***
Workshop Fees (without discount): Rs 750/- per participant, including course material.
Early-Birds Discount (up to five days prior to the workshop): Rs 600/- per participant
Group Bookings (in groups of five participants): Rs 500/- per participant
To read feedback from previous workshops, please click this link.
Programme Director : Shantanu Bhagwat
For further details email Info@udbhavassociates.com or call 99815 00274 or 97520 42889 
Related Link: The Entre Cell IIM Ahmedabad's Elevate! page